CSA 2017 Surprise Hoodie – Now with 100% less surprise!!
"Awww … If I knew it was gonna look like that, I would've totally ordered one…"
We've heard it summer after summer, hoping each year that ye of little faith would become ye of faith after seeing others don their fabulous new camp sweatshirts – or at least enough faith to pre-order a camp hoodie during registration. It's kind of been like a trust fall, but with money and sight-unseen cold-weather attire.
"Um, no."
But, alas … Like savvy consumers, you wanna see the goods up-front. So, we've heard you and we're compromising this year… Here is this year's surprise hoodie design! Take it all in… (and click on it to order yours!*)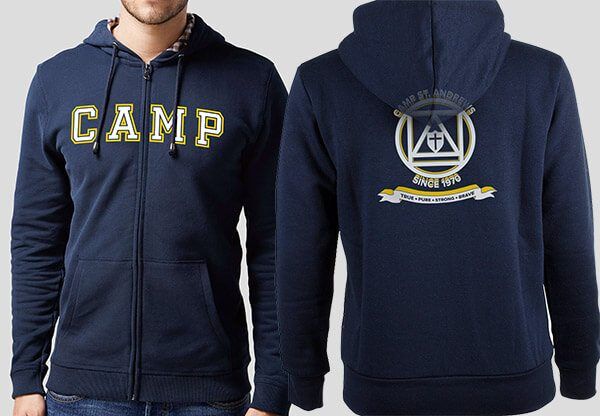 "Wait a second," say those who faithfully ordered hoodies at sign-up. "I thought that was the only way to get this so-called super special sweatshirt, and now anybody can get one?"
A valid concern. But check this out…
We upgraded this year's hoodies from pull-over style to zippered. The addition of that complex machinery typically adds $5 – $10 to a sweatshirt's cost.
We also went utterly mad and decided to go for double-sided screen printing – also a big cost booster-upper.
Those who pre-ordered during registration paid the single-sided pull-over price of $35. Those who order now will have to pay $40 (still a great deal, mind you).
You can still be hipstery about it and tell your friends, "I ordered mine before it existed."
*CSA 2017 attendees will receive their hoodies on the first day of camp. Non-attendees may also order, but will be shipped their merchandise after camp (and must therefore pay for shipping**).
**Unless other arrangements are made (contact registrations@campsaintandrews.org before ordering if you'd like to make other delivery arrangements***).
***Seems like this asterisk thing can go on forever (as long as we keep adding parentheticals to the footnotes****).
****Cool, but shouldn't we be using those dagger-like symbols at this point (instead of a million asterisks†)?
†Yes.